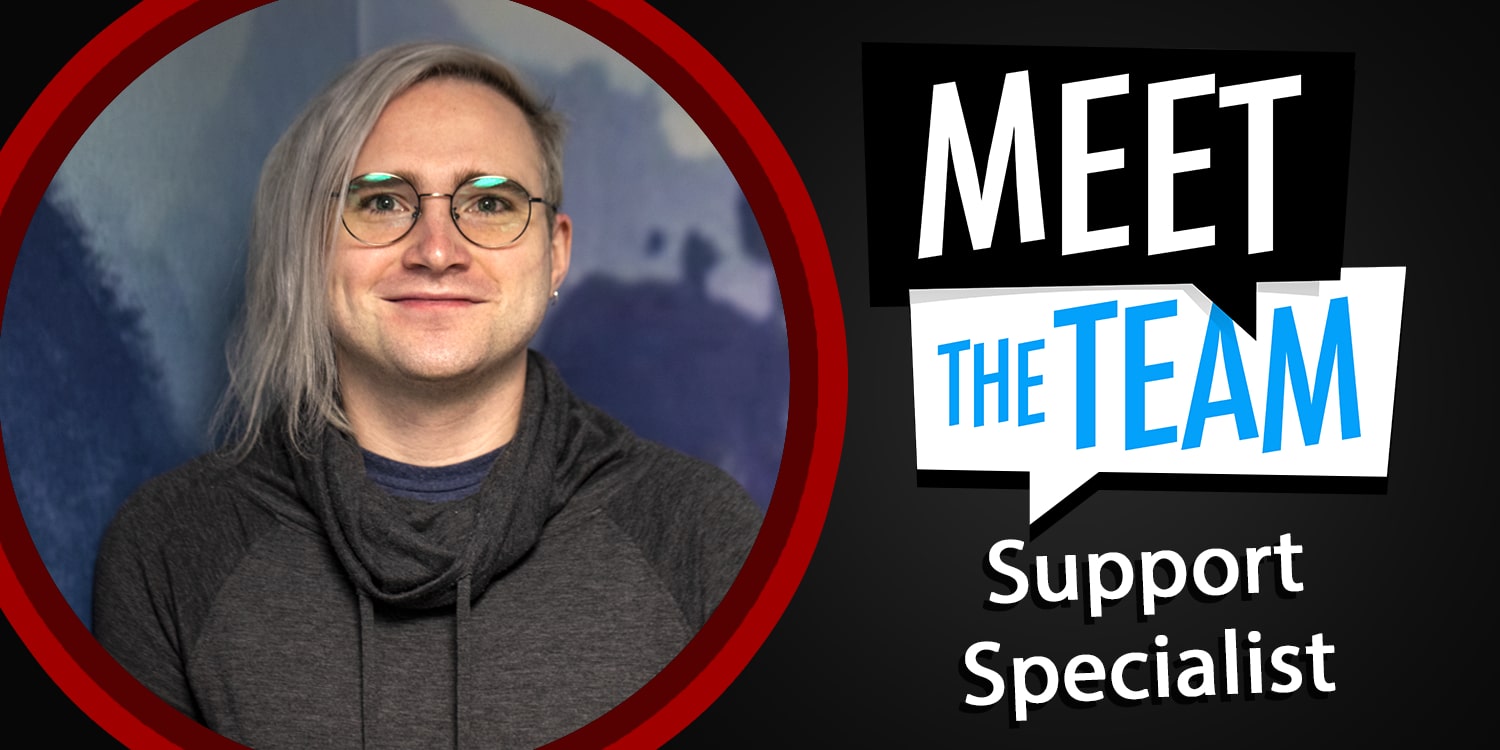 Name (and CTG nickname): Salem Scott, "Dart"
What do you do at CTG?
I'm a Support Specialist, and I assist with game development. 
My days are usually split between answering messages, sending out replacement components, and testing out the latest interactions of a game in development. I have been an in-house playtester since Cloudspire, but I have been able to expand this role further, getting to voice more input on some of the larger aspects of the design. 
How long have you been with CTG?
I started back in January of 2019, just over two years now. 
Tell us a little about yourself.
I went to school to study English and Theater. I was originally on track to go into teaching before getting involved with CTG. My biggest passion is film, and I spend most of my free time watching and reviewing films on Letterboxd. When not watching film, I usually end up playing video games, listening to audiobooks, or getting very invested in a random hobby only to drop it a few weeks later.
What did you do before you came to CTG?
Mostly retail work for Lindt Chocoate, but I spent a couple years as a literacy specialist for Elementary School kids. I also am a haunt actor during October, depending on my availability. 
What's your favorite part of working at CTG?
That's easy: going to conventions. The high energy is infectious and I love the direct interactivity I get to have with everyone. Plus, I love talking about our games, and conventions are the best place to share that love with other enthusiasts.
What's your favorite CTG game, and why?
Cloudspire, by far. As the go-to playtester for the scenarios, I grew very fond of the mechanics in this game, and with the scenarios being designed around highlighting those mechanics and unique faction skills, I developed such an immense appreciation for how varied it all is. Plus, I got to continually frustrate Josh Wielgus by finding ways to break his scenarios.
Good times.
Top 5 Films (though it's always hard to pick just 5):
The Fall (2006)
Hiroshima mon Amour (1959)

Blade Runner 2049 (2017)
Portrait of a Lady on Fire (2019)
Wolfwalkers (2020)
Top 5 Books:
Stories of Your Life, and Others by Ted Chiang
Six of Crows by Leigh Bardugo
Percy Jackson series by Rick Riordan
The Devil in the White City by Erik Larson
Annihilation by Jeff Vandermeer