Looting The Trove: The Making of Dart
5.22.20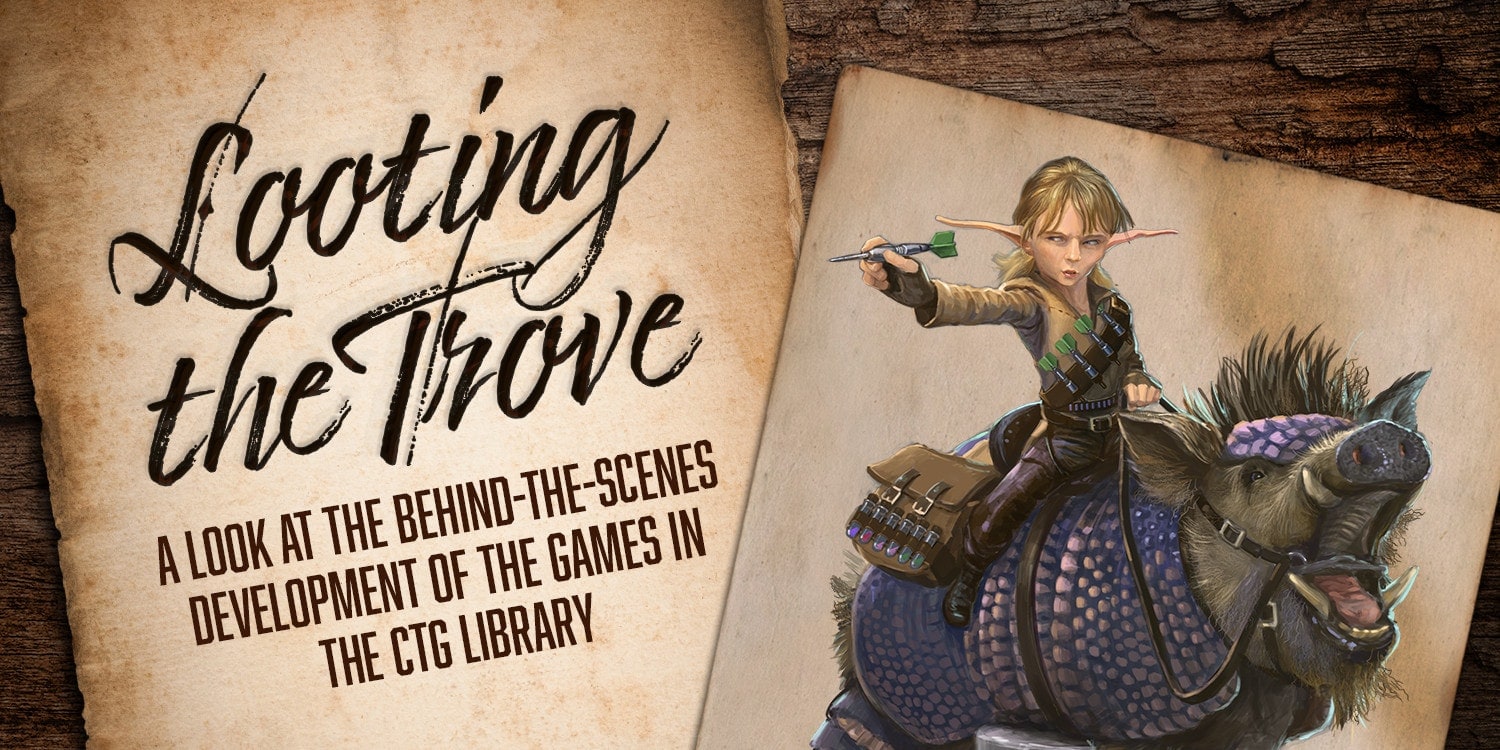 Welcome to Looting The Trove, a look at the behind-the-scenes development of the games in the CTG library. This month, with Gearlocs and games from the Splice & Dice Kickstarter getting delivered around the world, we decided to take a look at Dart, one of our new Gearlocs. CTG co-founder and game designer Adam Carlson provided the inside scoop on the origins of the toxin specialist.
The first idea for the character came from hearing TMB fan Ben Erickson pitch a dart-throwing Gearloc. Once that idea was settled on, adding a "dangerous" mode to homage Too Many Bones' famous, contentious game-within-a-game Dangerous Darts was a given.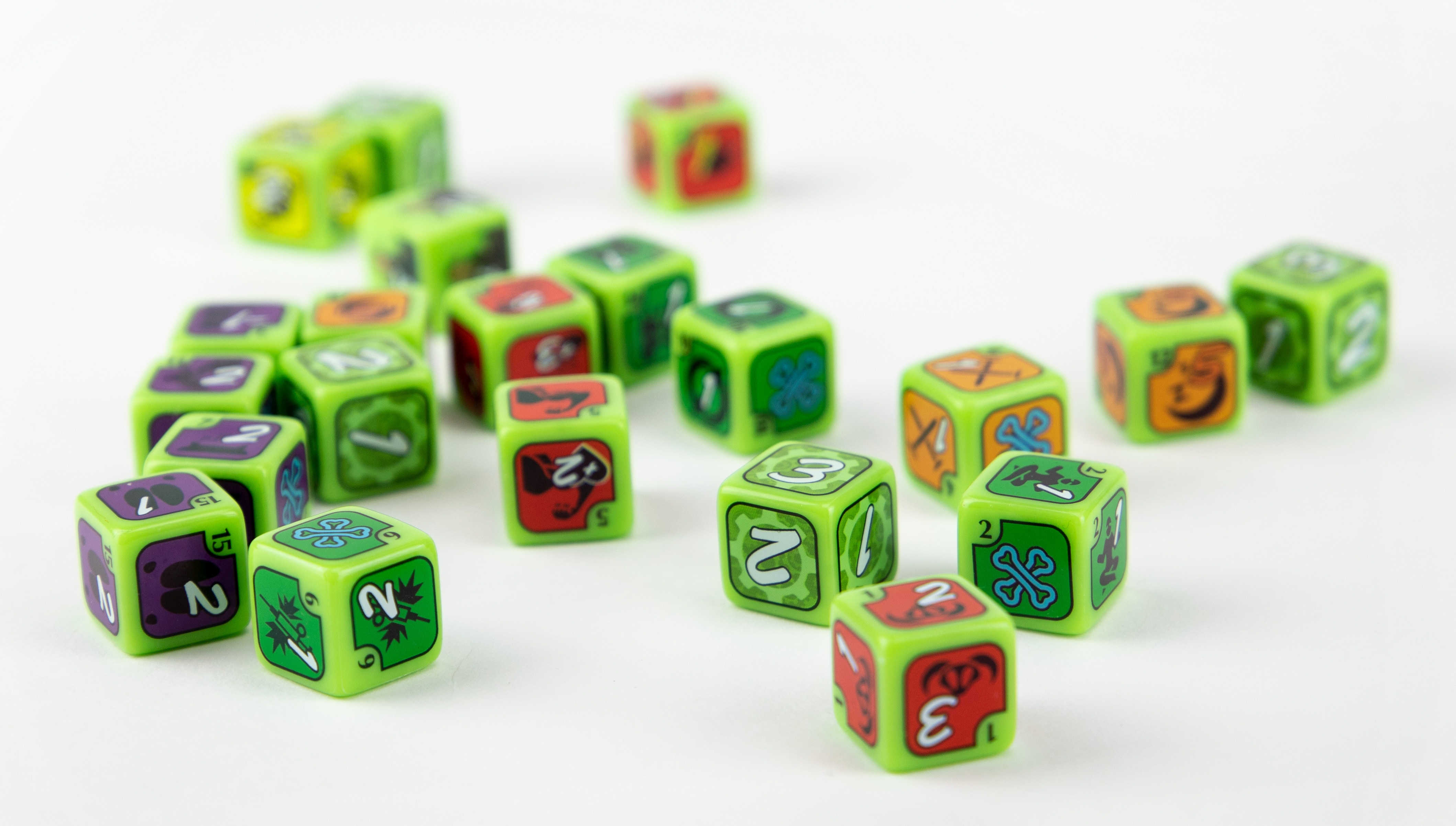 "Inspiration comes from our close relationship with our fans," Adam said. "We absolutely love talking about our Gearlocs with everyone and hearing all of the feedback! Truly, each new Gearloc that we roll out is a collaboration of our own ideas married with some of the neat things we hear within our community."
The design process for both Dart and the Lab Rats changed drastically over the development period. The original pitch for Dart saw her as more of a crowd control character, an expert Baddie disabler who used Boar'd as untargetable obstacle to reroute Baddies.
"This idea did not hold up in playtesting," Adam said.
A central concept that remained throughout the development process and into the final design was the idea of tying Dart's toxins and agents to attack dice.
"We toyed with several great ways to do this," Adam said. "It was clear that this mechanic was going to be part of the character from the start. The only struggle we had was trying to make the agents somehow work on Gearlocs as well. It was awkward to have these also tie with Atk Dice, but thematically speaking it made sense to keep it consistent. We made sure the benefits were there to justify throwing a dart at your teammate and potentially hitting him/her for two damage."
The other most unique aspect of Dart is her "dangerous" mode, where she can flip her mat over and rampage around the Battle Mat on Boar'd.
"Dangerous Dart easily underwent the most changes from conception to completion," Adam said. "What in the world does a pigadillo with a magnet strapped to its belly do anyways? Collect the darts, of course!"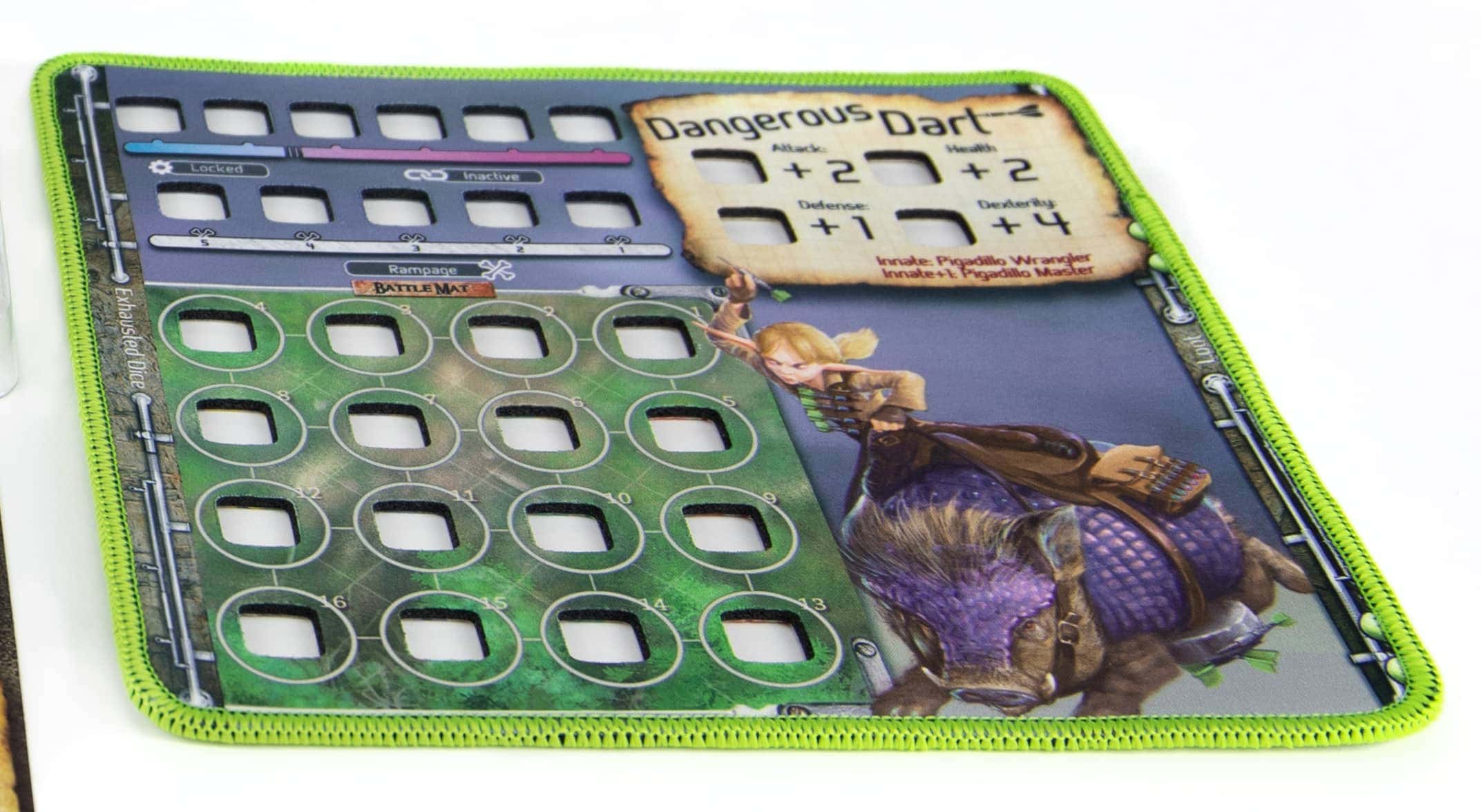 Though Adam was the lead developer on Dart, he said the final design of dangerous mode was accomplished thanks to many suggestions from many CTG team members.
"We knew we wanted a somewhat involved character with a fun twist. Otherwise, the backside of the mat would have been a wasted opportunity," he said. "The concept of matching the Battle Mat positions with the dice in the Skills Area was adopted early on."
Though the design changed a lot, Adam said, the final product is one he's proud of – probably his second favorite Gearloc design after Stanza.
"I got some inspiration from my experiences playing as a coercer in Everquest 2 (a lifetime ago), and more recently my brief enjoyment in playing Teemo in League of Legends," he said. "I'd like to think I attempted to create something from both styles."
Though Adam was the lead developer on Dart, he made sure to acknowledge CTG's collaborative process, both with team members within the company and with its fanbase.
"I want to take this opportunity to also share a heartfelt thank you to all of our backers who helped make Dart possible," he said. "Not just the ideas and the playtesters, but the funding and support for the entire Too Many Bones line. We are quite proud of our games, but we are even more proud of our community!"
Dart was created as part of the Too Many Bones: Splice & Dice Kickstarter project. You can order her here, and you can visit the Chip Theory Games store to see all available Too Many Bones products.