Let's Talk Undertow Baddies…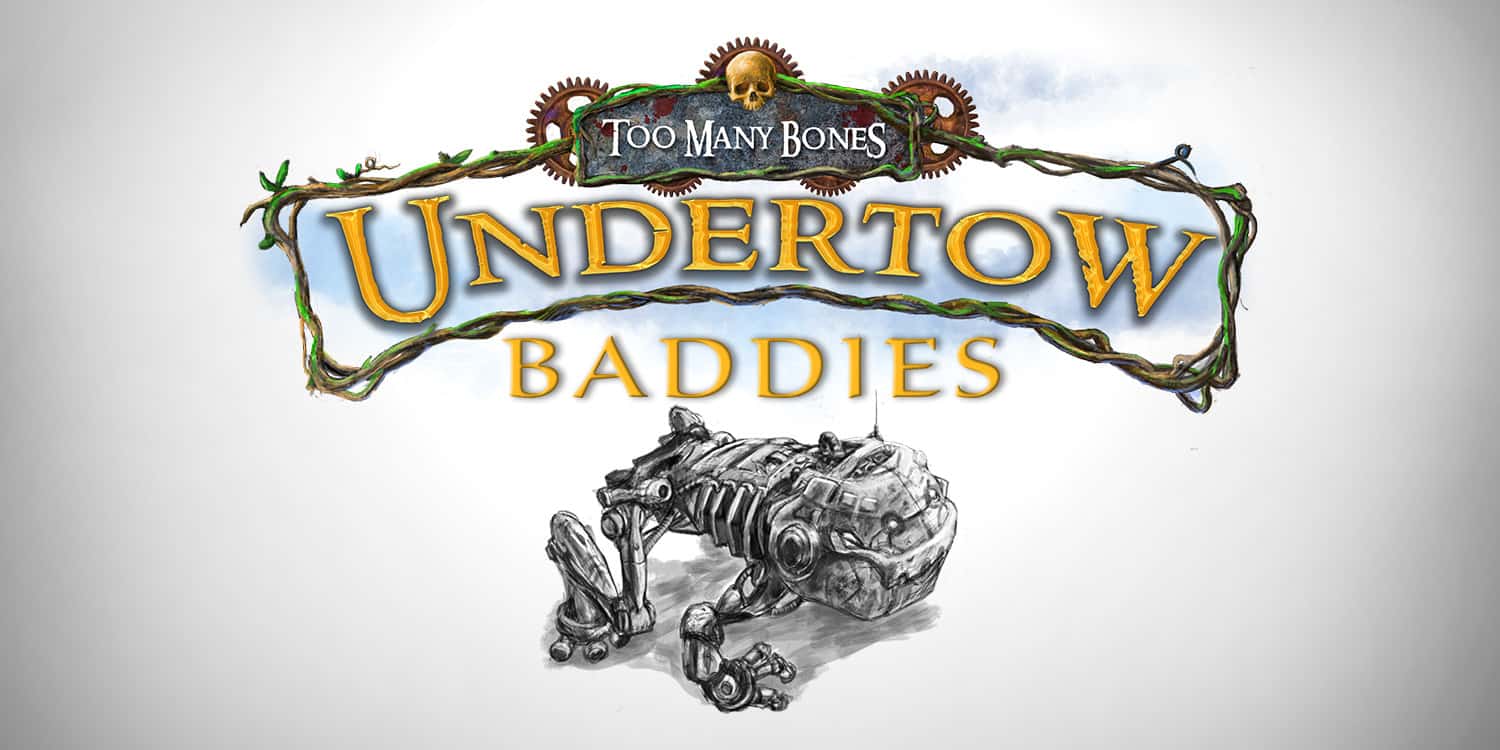 Undertow
, the newest game in the Too Many Bones series, is packed full of new and exciting encounters! This unique adventure will lead you into unknown territory where a whole new world of baddies await you. Let's check out some of the characters you may face on your river journey. Content below is in development and might change, however, this is very close to what the final product will be.
Goblins
These Baddies are well known for their Mischief skill that removes dice from your Active slots, and also there's that terribly annoying Goblin Alarmist with Signal! In Undertow (and the further south you go), these creatures are becoming more and more equipped with tech from before the breaking of Daelore. Therefore, you will also be encountering new skills such as Startle and Detonate.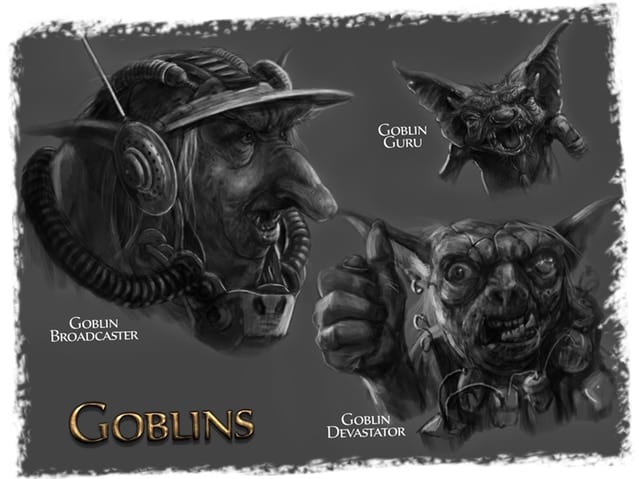 These new goblins will not only prove slightly more resilient (though they will still have the lowest average health of all types), but you will notice some aspects that will make them even more dangerous a creature type rather than just being an annoyance.
Beasts
Even though this is a Baddie Type from the original, the entire line-up within it is new! Monkeys and apes of all sorts live in the jungles south of Obendar (both west and east of the Sibron). These Baddies are extremely aggressive, usually quite smart, and have a long-standing animosity toward Obendar and especially Gearlocs.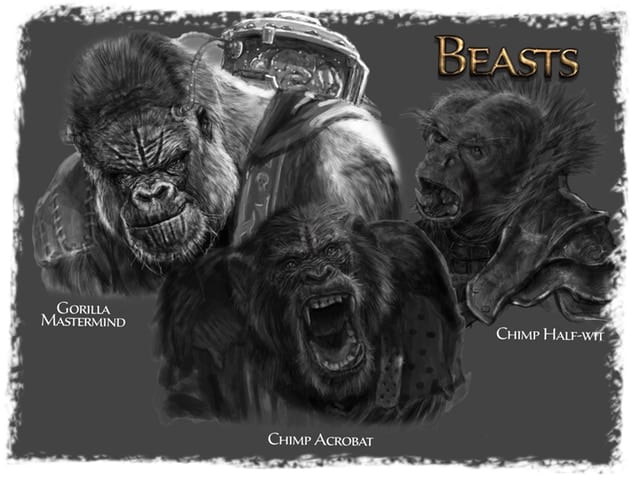 Almost as old a race as the dragons in the region, you will find all new skills associated with these creatures. Where Griffins and Owlbears brought Flight and Inspire to TMB, these apes and monkeys are even more coordinated and usually have traps in place before the battle even breaks out. Where is Ghillie when you need him!?
Scales
Another familiar Baddie Type to Daelore is the Scales. Dragons and kobolds apparently exist south of Obendar as well. While dragons refuse to use technology, these southern kobolds embrace the armor and weapons that can come from it. They only go for tried and true advancements, while steering clear of the more gimmicky goblin tech.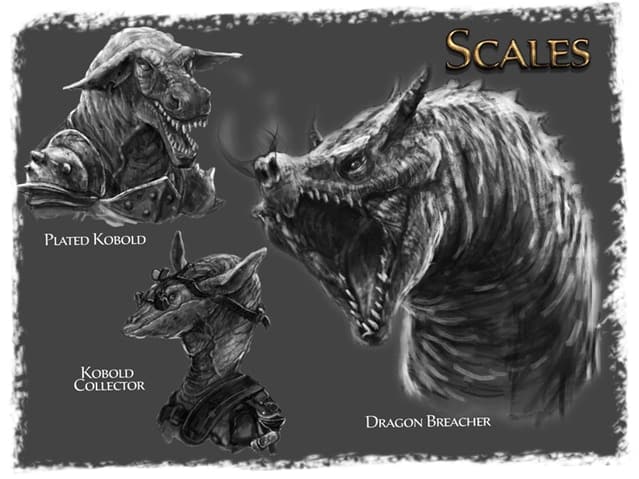 This is not good news for the opposition. It's hard enough to take down a Baddie with Hardy, but with armor or weapons, hopefully, our newest Gearlocs have a way to deal with this! Southern dragons, on the other hand, are still known for their Weaken skill, but also have some new ways of heating up the battlefield to the point where you will not want to stand still, even if you're a ranged Gearloc!
Mechs
One of the Baddie Types unique to Undertow are the Mechs. Sightings of these Baddies in Daelore have been more and more common in the last month. They seem to always have a very specific directive and only appear when they are carrying it out. The tech used to construct these automatons is very advanced but eerily familiar at the same time.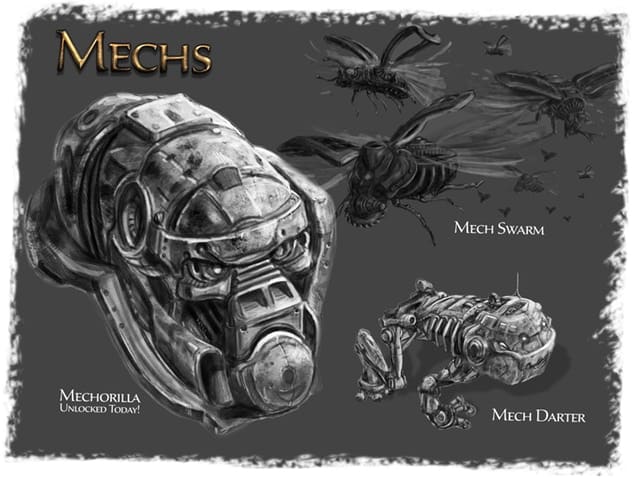 Mechs are not stealthy units. Often you can hear them coming and prepare yourself. However, they also show up at the most inopportune times, like while you are already engaged in battle with something else! Mechs are also very precise in their attacks. While they do much less damage on average in comparison to other types, they rarely miss, and even if they do, they always have a backup directive ready. Plan on seeing skills triggered by Bones (misses), consistent damage, and a very tough enemy to fully eliminate due to skills like Self Repair. Oh, and they have some immunities…
Krelln
Also unique to Undertow, the Krelln only exist within the Sibron and any waterways connected to it. This Baddie Type has remained hidden within the Sibron's watery depths for centuries and is only written about in stories of legend. But something has caused the Krelln to become agitated. All too quickly, the legend is being replaced by horror stories and accounts of giant water beast attacks along the Sibron trade routes.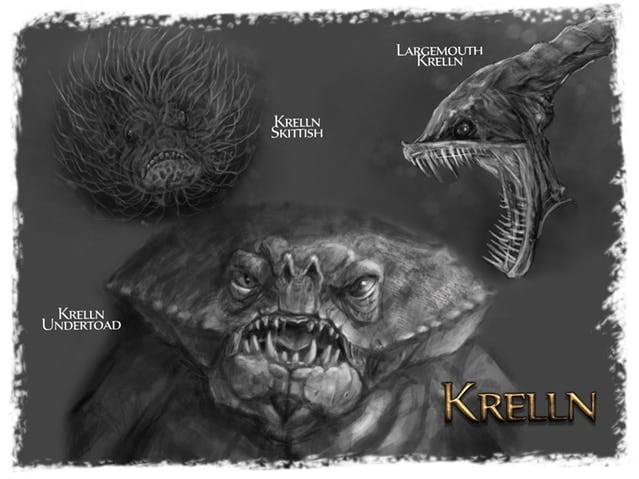 This Baddie Type appears only during water encounters within Undertow. They attack (enemy or raft) from the depths and have some very different skills that allow them to Submerge to heal, or even to swim to another position on the battle mat. Krelln often carries with them hatcheries, which spawn more Krelln if left unattended.
Undertow
is going to be an incredible standalone / expansion to the Too Many Bones world. Experience the game this summer 2018!