Let the 2019 Convention Season Begin!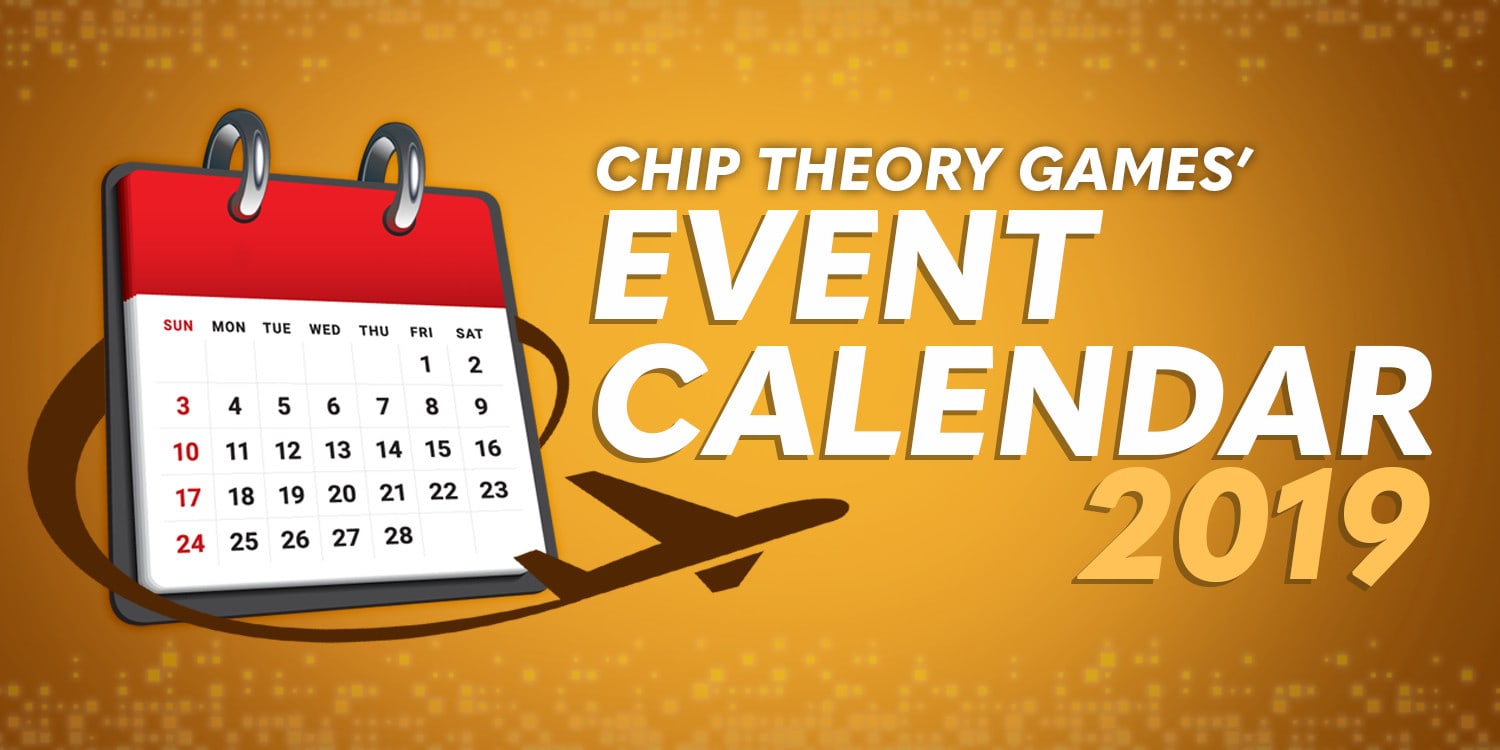 It's a new year, and that means a new convention season!
Hello Chip Theory fans – I'm Chesney, aka Gasket your friendly neighborhood events director. Here to give you all the information you need to join us in 2019 as we continue our road trip around some of the greatest conventions on the planet!
For those of you that weren't paying attention in 2018, we went from attending a single event, GenCon in 2017, to having a presence at more than ten conventions around the US and Europe. You may have even met me at one of those. I was the tall one with the funny accent…
2018 saw a number of firsts for us. We attended the UK Games Expo in Birmingham, Origins in Columbus allowed us to spend 5 days in the heart of country running 100's of games and Dice Tower Con and BGG Con gave us an insight into the life of the really fanatical board gamers. In addition, PAX Unplugged in Philadelphia introduced us to the PAX fans who are all amazing too. Of course we met so many incredible people along the way, and for all of your support I'd like to say a huge thank you!!
This year we will be at EVEN MORE East coast conventions, so look out for me in Lancaster & Gettysburg, PA, Frederick, MD and Portland, ME. We are of course committed to returning to all the biggest and best conventions. So if you are planning on attending some this year then make sure you plan a trip to the CTG booth!
UK Games Expo – May 31 / June 2
Our only convention in the UK at this point sees us visit Birmingham for the superb mixed gaming convention that is UK Games Expo. For those of you that like every type of tabletop experience this is the place to be.
Origins – June 12/16
Origins sees a return to the midwest city of Columbus, Ohio. We will be running a number of events that you can sign up for so make sure you keep track of the listings and book early to avoid disappointment.
GenCon – Aug 1/4
And while we are talking about huge conventions in the midwest, GenCon rolls around at the start of August and promises to be as ridiculously grand as always. We are planning an exhaustive list of events across all our game systems for new and old players alike to come and learn from expert staff and volunteers.
Essen, Germany – October 24/27
Essen is our foray into mainland Europe. This immense gaming experience is a must for anyone even slightly into geek culture at all – it has everything. Plus you'll be able to get a sneak peak at some Top Secret projects to boot!!
PAX Unplugged – December
Our year is rounded out by the inspiring event that is PAX. After only 2 years this tabletop centric version of their extraordinary conventions has grown into a truly unique show. They have one of the biggest free play areas found at any convention in the world.
March/May/July/November
Our road trip on the East Coast means we can take a limited range to Cold Wars, Historicon, Fall-In and Huzzah! conventions. Future newsletters will give more details on this, including your chance to try out Hoplomachus (these are Historical shows after all
Join the CTG Volunteer Team!
Thank you for staying with us through this epic update. This season we will be looking for many wonderful volunteers to help us run games, events and talk all things Chip Theory with customers wherever we are. If you are coming to any of the conventions listed above and think you'd like to lend a hand and play some games then simply fill out the form below!
For those of you that have helped us out in previous years, we will contact each of you throughout February and March and give you all priority on sign ups for this year's schedules and perks!
2019 Volunteer Sign-up Form
[wpforms id="2139″ title="false" description="false"]