Increasing prices, but with a silver lining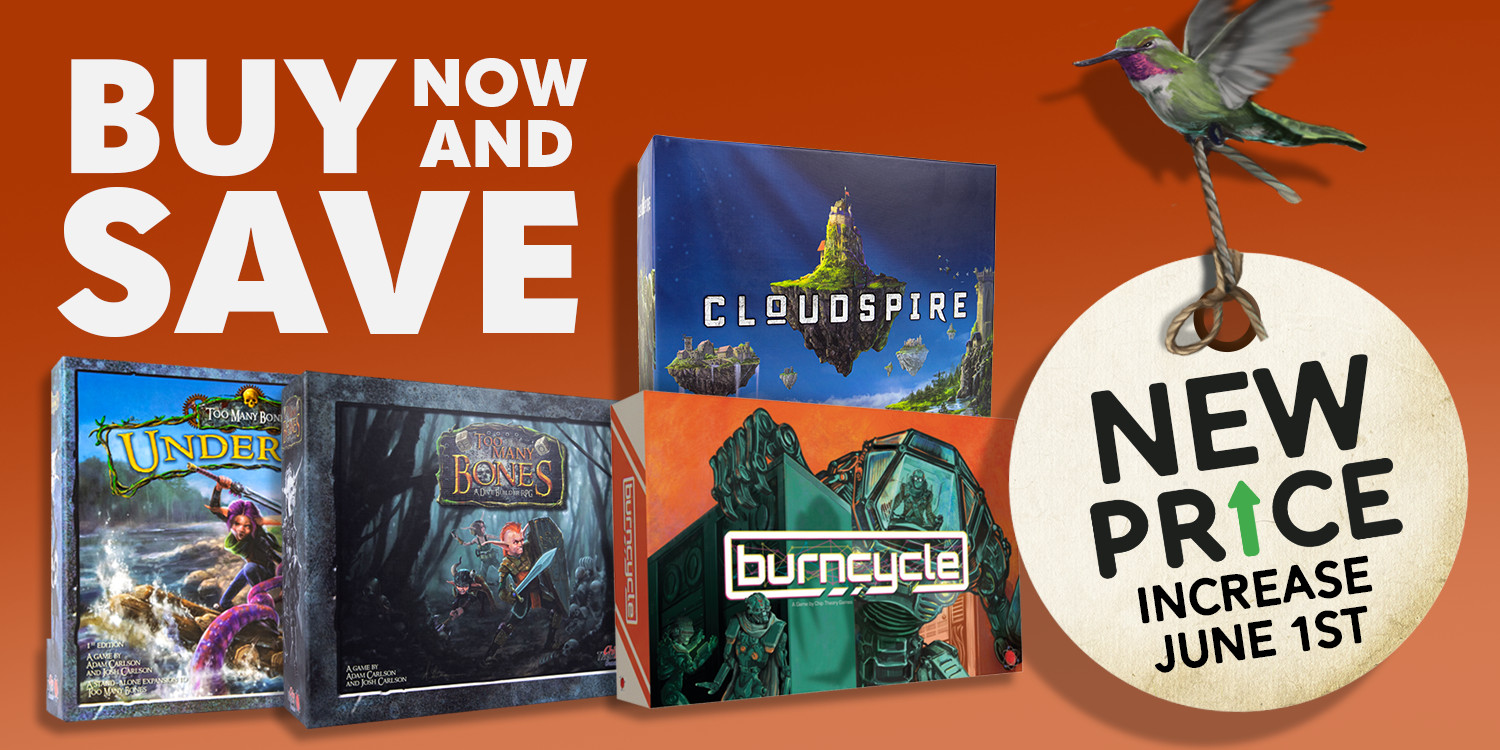 Greetings, Chip Theory fans!
We've been avoiding doing this as long as we can, but you've seen the news. You've seen the social media posts. You've felt it in Kickstarter and Gamefound campaigns, the gas station and the grocery store. Costs across most industries have increased recently, and the board game world is no exception. 
We'll cut to the chase: We need to increase prices of CTG's flagship titles. So, beginning June 1, you'll see most Chip Theory titles receive a price increase of anywhere from $5-20.
Too Many Bones, Cloudspire, burncycle, and Hoplomachus: Victorum (though still unreleased and unavailable for preorder at this time) will all be moving to $149.95 MSRP in North America and €149.95 in Europe and the rest of the world. Several other products, like our line of playmats, Too Many Bones: Undertow, and Too Many Bones: Splice & Dice, are also seeing modest price increases. 
However, there is a silver lining! To try to take the edge off of this price increase, we are also moving ahead with a new shipping offer on our website. Starting June 1 and lasting for as long as we can afford to offer it, in the US and Europe, all orders from https://chiptheorygames.com of $200/€200 or more (before tax) will ship for FREE! Don't quite have $200 worth of game content to order? Don't forget that we have our brand new Chip Theory Curios line to explore, full of interesting items like beautiful wooden puzzles and plushies. 
This is the first major price increase in Chip Theory's history. In the six years since Too Many Bones was released, we have only increased the price of it a single time, by a mere $5. We do everything we can to keep our prices as low as possible. Selling direct to consumers through crowdfunding and our website has allowed us to do this for years. However, we are not immune to the huge spikes in ocean freight and manufacturing material pricing, so we have to do this to maintain reasonable margins and continue creating the innovative industry leading products you've come to love and expect. 
With all of that said, the clock is ticking! If you've been on the fence about burncycle, Cloudspire, or any of our major Too Many Bones content expansions, you have six days before they'll cost you a bit more. You may want to head on over to our website and place an order before these increases hit. 
Thank you so much for your support both recently and over the years. Our customers are the true heroes of Chip Theory's story. We hope you'll continue to support wild ideas and the audacious games we continue to create, and we hope the new free shipping threshold makes that choice a little easier!
– Team CTG