Contribute to the Cloudspire community with our new scenario contest!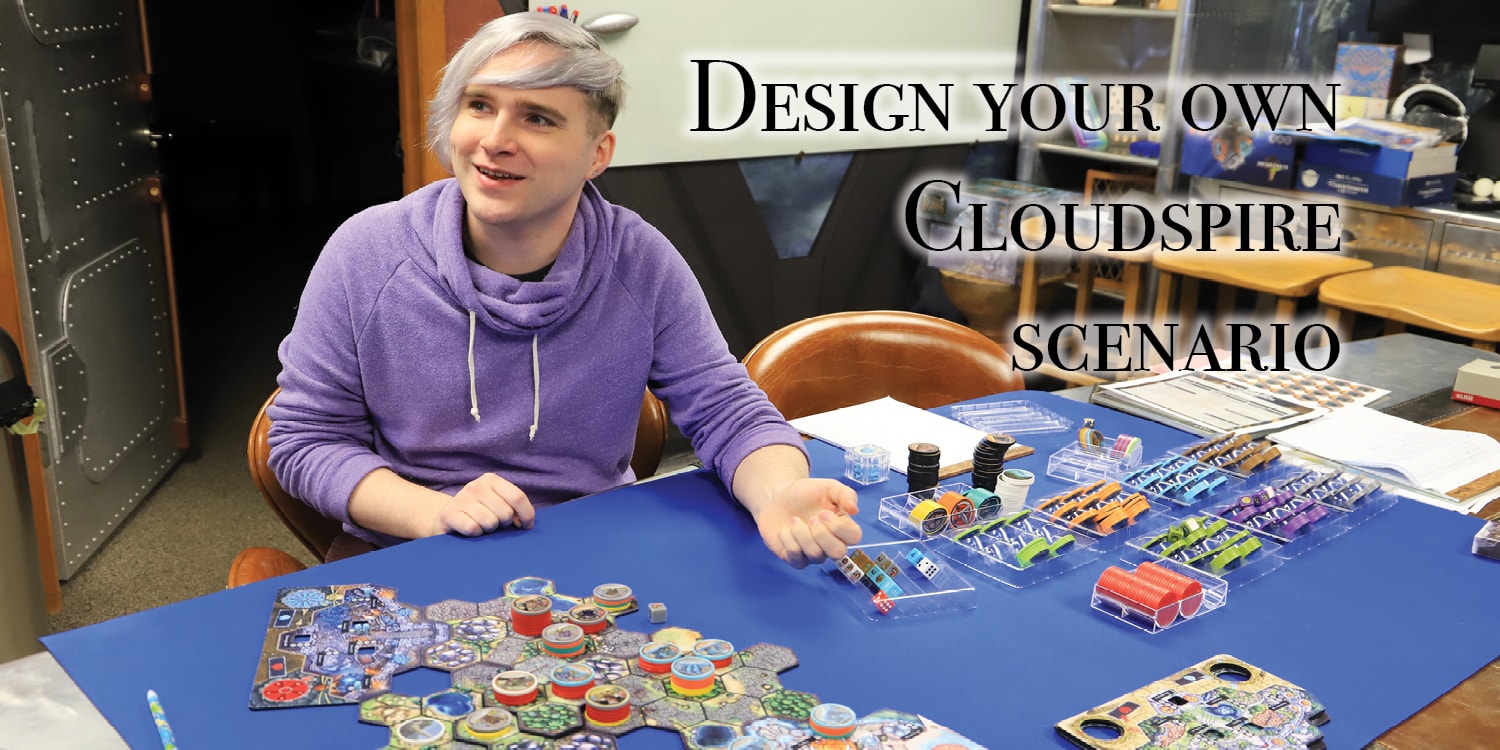 With 30 solo and co-op scenarios already and more on the way, there are a wide variety of stories and challenges in the world of Ankar. However, we think we have only scratched the surface of what is possible, and we believe you have some great ideas to contribute to the Cloudspire solo and co-op community!
Starting today, we are holding a contest to find the most interesting scenarios you can create. During the next handful of weeks leading up to the Cloudspire: Ankar's Plunder Kickstarter campaign, you will be able to submit your custom scenario to us and share your submissions with the Cloudspire community. Every entrant will get a free Cloudspire dice tray and will be entered into a drawing to receive a free copy of our two new factions, The Horizon's Wrath and The Uprising! The drawing winner will be selected and announced by April 13.
We hope you will share these scenarios among our fans so that they have even more Cloudspire content to enjoy. We'll also be taking a look at all the scenarios to see which ones go the extra mile to provide that special Cloudspire combat-puzzle feeling. In the future, there's the potential that your scenario could be published by Chip Theory, with you as the credited designer!
Please note that for these scenarios, we are most interested in the ideas on display and the highlighting of what makes a scenario interesting for you. Is it the non-standard map layout? Do you prefer the possibilities for varied strategies or trying to determine the exact combination to crack the code? Do you like the struggle, feeling as if you're constantly on the verge of defeat before you eke out a win? Or do you like to feel like an unstoppable grizzled oak, crushing the feeble peons who dare stand in your way? Alternatively, feel free to design a scenario that's something we haven't seen yet at all: perhaps a PvP scenario, with pre-determined set-up and win conditions, or a three-player co-op mission.
These scenarios do not need to be extensively play-tested, though we do hope you'll solicit feedback from your fellow players. Ultimately, we want to see what makes you excited!
Now that the cool stuff is out of the way, we do need to dive into some of the more technical parts of the contest.
The scenario must only include components found in the Cloudspire series. You are more than welcome to use components from the Portal Seekers or griege expansions, but if you do, please clarify that in your submission.

The rules and layout of the scenario must be explainable through our submission spreadsheet. In order to keep formatting consistent for all scenarios, you are only allowed to submit your submission via the provided spreadsheet. If your map layout has multiple layers, feel free to attach multiple photos to distinguish the layers. We recommend checking out our example submission to get an idea of what everything can and should look like.

Chip Theory Games reserves the right to use any ideas or concepts present in submissions for future scenarios.

Chip Theory Games reserves the right to refuse any submission deemed inappropriate or in violation of any of the contest rules.

In the event that Chip Theory Games decides to publish your scenario with you as the credited designer, Chip Theory Games reserves the right to make any changes to the scenario deemed necessary.
Beyond those restrictions, you have free rein to test your creativity. However, we do recommend being clear and concise in your write-ups. The more confusing your set-up or scenario-specific rules may be, the more confused other players may be. Attached are links to both the blank template spreadsheet to use for your own submission, and an example scenario designed by Dart. When accessing the template, please copy it and paste it into your own spreadsheet that you can send to us.
Please send finalized submissions to board@chiptheorygames.com.