Chip Theory Games Launches Hoplomachus: Victorum on Kickstarter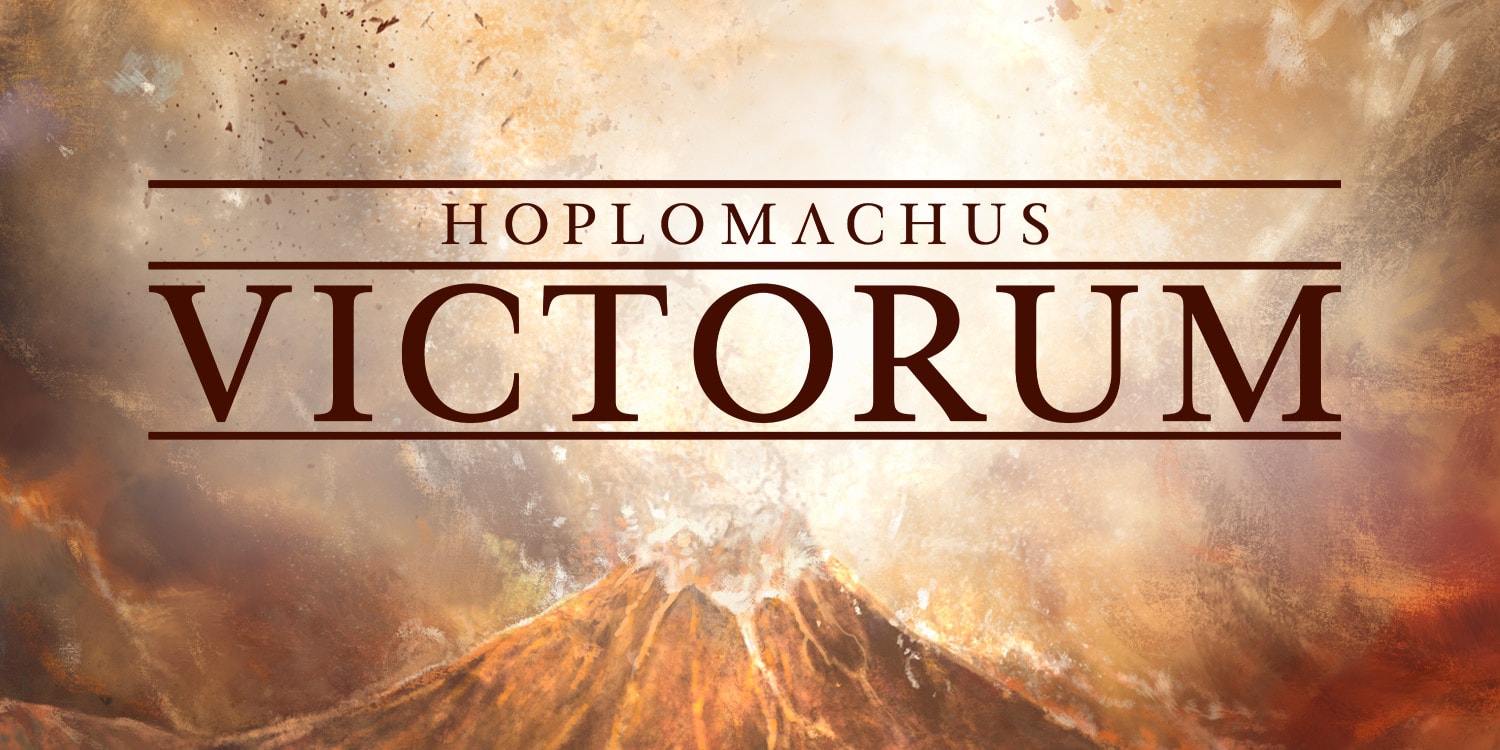 Plymouth, Minn. – Chip Theory Games is excited to launch its latest project, Hoplomachus: Victorum on Kickstarter. The crowdfunding campaign began Tuesday, May 11, raising more than $500,000 in the first day. 
Designed by Josh Carlson, Adam Carlson, and Logan Giannini, Hoplomachus: Victorum is a solo-only adventure based on the acclaimed gladiatorial combat mechanics of the long-dormant Hoplomachus game franchise. Hoplomachus was the IP that originally launched Chip Theory Games as a publisher back in 2012, and two additional standalone titles and a myriad of expansions followed it. Though the series has not seen any additional content in several years, it has developed a cult following, beloved by fans for its smart, easy-to-learn tactical gameplay and its Chip Theory signature premium components.
Victorum will be a first for Chip Theory Games and Hoplomachus, as it is an exclusively single-player experience. Players will choose from a variety of heroes and venture forth to save the world from Pluto, who has taken it upon himself to cause a devastating super-eruption of Mt. Vesuvius. Drawing on a myriad of mythological, historical and cultural backgrounds, Victorum brings the story and lore of Hoplomachus to the forefront. House artist Anthony LeTourneau's stunning art will also be front and center.
Alongside Victorum, Chip Theory is also remastering the best of all previously released Hoplomachus content in a package called Hoplomachus: Remastered, which will feature solo, co-op and PvP play experiences. While many of the arenas and concepts from Hoplomachus: Origins have been folded into Victorum, Hoplomachus: Remastered will feature polished versions of The Lost Cities and Rise of Rome, alongside the best of the smaller expansion content from those respective titles. This remastered content will feature brand new art from Anthony LeTourneau, streamlined and improved rules, balance tweaks, and some modest changes to in-game factions to bring out each of their unique play styles in a more aggressive form. Hoplomachus: Victorum and Hoplomachus: Remastered have unique but cross-compatible gladiator units, making each game a standalone expansion to the other.
Both Victorum and Remastered are set to release in early late 2021, restoring Hoplomachus's place among Chip Theory's other incredibly popular IPs (Too Many Bones, Cloudspire, burncycle). For more details and a direct link to the campaign, visit https://chiptheorygames.com/victorum.
Chip Theory Games is a board game design and publishing firm based in Plymouth, Minn. Known for top-of-the-line components paired with deep strategic gameplay, Chip Theory has produced some of the most well-loved games in tabletop gaming. Too Many Bones, in particular, ranks in Board Game Geek's top 50 games of all time by user rating and score.